Local Women Business Owners Receive Spirit of Entrepreneurship Awards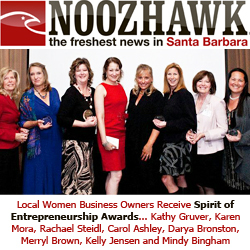 And the 2012 winners are…
Top honors go to Kathy Gruver, Karen Mora, Rachel Steidl, Carol Ashley, Darya Bronston, Merryl Brown, Kelly Jensen and Mindy Bingham
Taking a lesson from the Academy Awards, the National Association of Women Business Owners-Santa Barbara Foundation honored women entrepreneurs in eight categories at its Spirit of Entrepreneurship Awards dinner on Friday at Fess Parker's DoubleTree Resort.
Each winner learned of her selection only after NAWBO-SB Foundation President Susan Johnson and NAWBO-SB President Diana Bull asked for "the envelope, please" and read the recipient's name.
The winners of the 2012 NAWBO-SB Spirit of Entrepreneurship are:
Health Fitness and Beauty — Kathy Gruver, Healing Circle Massage
Professional Services — Karen Mora, Accountability Plus
Media/Publishing/Communications — Rachael Steidl, ParentClick.com
Real Estate/Construction — Carol Ashley, Demo2Design
Science and Technology — Darya Bronston, Annovium Products
Tourism/Hospitality — Merryl Brown, Merryl Brown Events
Wholesale/Retail — Kelly Jensen, Jensen Audio Visual
Rock Star (top level entrepreneur/mentor) — Mindy Bingham, Academic Innovations
Lynda Weinman, co-founder and executive chair of lynda.com, gave the inspiring keynote on the "Future of Education" and Melanie Doctors of Purrmission Lingerie was mistress of ceremonies.
The Spirit of Entrepreneurship Awards were created to honor Santa Barbara County women business owners who exemplify what it means to be a successful entrepreneur. The winners were selected by independent judges from more than 70 remarkable nominees. The top nominees in each category were also recognized at the awards ceremony.
In addition to honoring women entrepreneurs at the NAWBO-SB Spirit of Enterpreneurship Awards dinner, Melissa Morena, director of the Scheinfeld Center for Entrepreneurship & Innovation at SBCC, also presented certificates to the winners of New Venture Challenge. This was a two-tiered business pitch competition for SBCC students and area high school students held the week before the awards dinner. Scholarships and/or cash awards were given out for the first, second and third place at both the college and high school levels.
"We believe our mission is to support entrepreneurship at all levels, and the students are our future," NAWBO-SB Foundation board chair Cathy Feldman said. "We are thrilled to have this opportunity to partner with the Scheinfeld Center and to use the proceeds from this event to encourage the next generation of entrepreneurs to grow their own businesses."
Thanks to the success of the last year's Spirit of Enterpreneurship Awards event, the NAWBO-SB Foundation provided $7,500 in cash prizes for the Scheinfeld Center's 2012 New Venture Challenge awards and will be providing them in 2013 as well. This is possible because of generous multiyear named sponsorships of $2,500 each for students from the Diamond Sponsors, Montecito Bank & Trust and lynda.com. An equal amount comes from other sponsors and the proceeds of the Spirit of Entrepreneurship Awards and is named for one of the founders of NAWBO-SB, Patty DeDominic.
Each winner of the NAWBO-SB Spirit of Entrepreneurship Award received an engraved crystal award from Tiffany & Co. and will be honored at NAWBO-SB events throughout the year.
Category: Award