ParentClick.com, a Go-To Source for Santa Barbara Families, Celebrates 10-Year Anniversary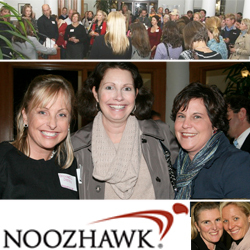 Provides a one-stop shop of online resources, including school news, event calendar & chatter area.
Rachael Steidl joined a Santa Barbara mom's group about 10 years ago. Her twins, Ashley and Whitney, were 3 years old, and she was pregnant with her youngest, Emily. Steidl found out that the moms had the same list, including which preschool their children should attend.
It was there that ParentClick.com was born.
"The idea behind it is, we'll do the work for you and you choose what works," Steidl said.
ParentClick.com, a "one-stop shop" Web site for parents, celebrated its 10-year anniversary Monday night at Business First Bank.
"What was amazing about last night is how fast my time has gone by with my kids," Steidl told Noozhawk. "I was really moved last night seeing all the people there and the amount of support I felt. One thing I acknowledged about last night was the 15 or so organizations that jumped on board when we first launched the site. They've been there every step of the way." 
One of those organizations was the city of Santa Barbara Parks & Recreation Department.
"Ten years ago, there weren't a lot of resources locally that were focusing on children. It was a very good idea," Parks & Recreation marketing coordinator Kathleen Sullivan said. "There are tons of after-school programs in Santa Barbara, and it is a really good vehicle to get the word out."
Sullivan said she wished she could have benefited from the resource when her son was growing up.
"It's basically a one-stop shop for everything going on in the community," she said.
On Monday night, about 150 people celebrated the site that serves as a centralized source for parenting information, including a directory, an event calendar, volunteer updates, school news, articles, a classified section and a chatter area where parents can share their experiences.
Steidl said the original scope of the business focused on parents with young children.
"At the time it was so overwhelming to go online because too much would come up," she said. "We filtered it down so parents could find every camp and after-school program."
The site now serves children up to age 18, expanded to 250 cities in six states, and boasts more than 43,000 members and more than 21,000 businesses. ParentClick.com sponsors more than 50 nonprofit events a year, and introduced kid's expos, mother-daughter nights, costume exchanges and business mixers.
"The difference between us and other sites is that we try to bring businesses, schools and nonprofits together to support families and give people an opportunity to network and connect," Steidl said. "Everything we've done with the site has grown with what I've learned as a parent."
Local pediatric dentist Robert Ruby was also an initial investor.
"What Rachael sat down and created 10 years ago has made an impact for the best," he said. "I use it as a form of reference to my patients."
ParentClick.com's recently redesigned Web site goes beyond virtual communication, Steidl said, adding that it still models the mom's group she joined 10 years ago.
"We go beyond the Internet," she said. "It's important that we are present in the community because so many online sites are so vague. It's about people living in this community who run it, not just aggregated information pumped back out. It's about supporting each other." 
Category: Media