Mothers, Daughters All in Fashion at ParentClick.com's Teen & Tween Night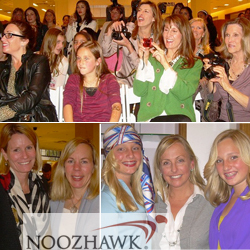 Makeovers, style tips, a fashion show and more mark benefit for Scholarship Foundation of SB
ParentClick.com hosted its second annual Mother-Daughter Teen & Tween Night at Saks Fifth Avenue as a benefit for the Scholarship Foundation of Santa Barbara. The State Street Saks was teeming with teens, moms and supporters who were shopping, doing makeovers and waiting in anticipation for the grand finale fashion show!
The Jan. 22 evening event wasn't all social as stations and classes were set up with topics such as age-appropriate makeup and skin care, as well as etiquette and social graces for teens by Simple Manners. The focus was on educating moms and daughters on skin care, hair care and makeup application.
The fashion show featured Ticktockers from National Charity League, who were getting their hair and makeup glamorized at the stations in preparation for their walk down the runway later in the evening.
There was also a photo booth, fragrance stations, wine (for the moms) and refreshment bars, and hors d'oeuvres tables. Participating sponsors included Allure Salon, Bobbi Brown Cosmetics, Dolce & Allure, Dolce Vista Salon, Linda Allen Blue Photography, Outrageous Booths, Saks Fifth Avenue, Santa Barbara Teen News Network and Simple Manners.
The Scholarship Foundation received 10 percent of the purchases from the evening. Scholarship Foundation outreach manager Maritza Meija was busy reminding young women in the crowd that Jan. 31 is the upcoming deadline for scholarships. Rebecca Anderson, the foundation's development director, was doing her part by shopping for sparkly tops!
The woman who masterminded the event was Rachael Steidl, entrepreneur, businesswoman and founder of ParentClick.com. Steidl started the SBParent.com Web site in 2002. As a new mother, she was motivated to create a site to support families when she saw parents struggling to find resources for their children. In 2004, she launched ParentClick.com, which has expanded to cities in six states and now boosts more than 42,000 members.
For the fashion show, the gaggle of teen models — including Steidl's twin daughters, Ashley and Whitney — was outfitted and choreographed by Ana McHale, Saks' fashion show coordinator, and marketing director Kristi Marks, who also served as the emcee. Marks reported to the enthusiastic audience that "orange, animal prints and lace are back," as well as tops and dresses with defined waistlines. She commented that adding a brightly colored handbag will update just about any outfit and is a new look for spring.
Marks ended the show by sharing a quote by Coco Chanel: "It is the unseen, unforgettable, ultimate accessory of fashion that heralds your arrival and prolongs your departure."
Chanel's words of wisdom may have been a prompt to continue shopping that evening to support the Scholarship Foundation of Santa Barbara!
Category: Media